EB-5 Program Overview
EB-5 Immigrant Investor Program provides foreign investors a straight forward opportunity to obtain U.S. Permanent Residency (green card) for themselves and their immediate family members with children under 21 years of age. The minimum requirements are to invest a minimum of $500,000 in a project in the U.S. and create 10 American jobs.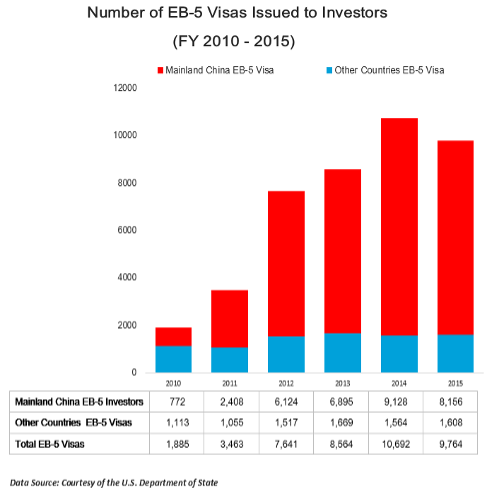 Why select EB5 Immigrant Investment Program?
The EB-5 Immigrant Investment Program is an optimum option to obtain Permanent Residency through investment. The investment can lead to green card for individuals to live and work in the United States with their spouse and unmarried children under the age of 21.
The benefit of obtaining Permanent Residency (American GREEN CARD)
Get a job anywhere in the U.S.
Lower tuition compared to foreigners.
Live anywhere in the U.S.
Travel in and out of the U.S. without a VISA.
No need to renew your status.
Eligible for retirement benefits.
Eligible for health care.
Better living environment.
After 5 years of being a permanent resident, you may apply for a U.S. citizenship.
Realize your American Dream in the land of freedom and opportunities.
For foreign students studying in the U.S., there are challenges facing high tuition, limitation on scholarships, and qualification for working permit after graduation.
The EB5 program is a superior alternative to the F1 student visa. The EB5 Immigrant Investment Program enables participating investors, their spouses, and children under 21 years of age enjoy the same in-state admission as U.S. citizens and residents. Students can continue to reside and work permanently within the US after graduation. Students under this program do not require any sponsorship from the host company; they have an edge over other international students to secure a better job.
For student who tries to remain in the U.S. through H1 visa, it should be noted that H1 Visa is a non-immigrant visa that allows US companies to employ foreign workers. Each year the allowed number of H1B visa is limited to only 85,000 which subjects the applicant to a lottery drawing, and cannot possibly satisfy hundreds of thousands of international scholars who want to remain in the U.S., not to mention the stringent requirements for H1 visa candidates and the slim chance of being drawn in the lottery.
For individuals who want to start their new lives in the United States of America, EB-5 visa program is a great alternative to other immigration visa categories. It leads to a direct route to a lawful permanent resident status in a short time. There are no requirements of business experience or speaking the language, no need to continually renew their visa status, or continually paying for tuition to attend classes in order to stay in the U.S.