Project Completed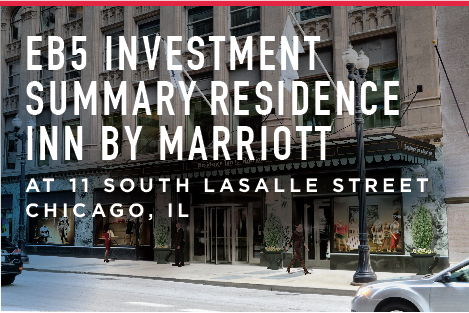 Common Equity:
$24,200,000
Preferred Equity:
$40,250,000
Stabilized:
$10,008,000
Enter your email to receive EB-5 news and updates.
Project Overview
The Prime Group, Inc. would like to announce its latest development project, The Residence Inn by Marriott and The Roanoke Restaurant at 11 South LaSalle Street. This 381 room extended stay hotel will be Marriott's largest Residence Inn in the world. The Roanoke Restaurant will be a 160-seat full service three meal restaurant attached to the Residence Inn. The Residence Inn opened for business in September 2015 and The Roanoke is opened in October 2016.
The Hotel
The 381- key extended stay hotel will consist of a total area of 315,000 square feet and include a mix of studios, one-bedroom, and two-bedroom units. Guest amenities will also include a lobby lounge, a fitness center, a business center, private meeting rooms, and a laundry facility for guests. The Residence Inn also has a conference center with 8,000 square feet of meeting and conference facilities.
The Restaurant
Managed by Weber Grill Restaurants, LLC, The Roanoke will offer contemporary American fare in an elegant setting, promising guests quality food and service in a sophisticated atmosphere. Furthermore, The Roanoke will manage the breakfast, catering, and bar service within the Residence Inn.
Ownership
The Hotel is being developed, owned and operated by 11 South Hotel Partners, LLC ("Hotel Owner "). The Restaurant will be owned and operated by Roanoke Hospitality, LLC ("Roanoke "). Hotel Owner and Roanoke share the common ownership of PLMP, which owns 100% of Roanoke and 66.67% of Hotel Owner.
EB5 Investment
The EB5 investment vehicle is 11 South EB-5 Investors, LLC (the "Company"). The general partner of Company is LaSalle Street Regional Center, LLC ("Regional Center "). Regional Center is a wholly owned subsidiary of The Prime Group, Inc. EB5 investors will receive a preferred return on their investment of 0.5% annually. Company will make a $11,000,000 loan bearing interest at 3.5% to PLMP to reimburse PLMP for previously funded Hotel development costs and to acquire and develop the Restaurant.
Project Capitalization
The project capitalization shall consist of a $68.0 million first mortgage construction loan (the "Senior Loan"), a $11.0 million loan provided by the EB5 Investment entity, $24.2 million of common equity, $40.25 million of preferred equity, and $1.0 million of landlord contribution. The EB5 loan will be for a term of five years and shall bear interest at 3.5%.