Thursday, February 27, 2020
On the March visa bulletin, the China Final Action date for employment-based fifth preference just jumped five months to December 15, 2015. This rapid advancement not because lack of Chinese with approved I-526, but simply because fewer Chinese eligible to be called for a visa interview.
The March visa bulletin inserted a reminder to Chinese with approved I-526 to get "documentarily qualified" at National Visa Center, otherwise would losing place in line. Here is image from the March visa bulletin.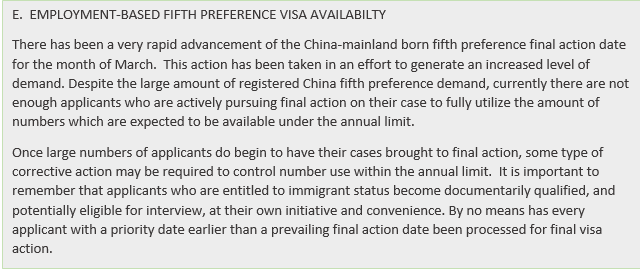 This brochure https://travel.state.gov/content/dam/visas/PDF-other/NVC_role_in_IVs_for_applicants_November_2016.pdf from DOS gives an overview of the NVC process and what it means to be documentarily qualified.